Archive for February, 2010
Just as I was blogging on and on about cat eye shaped glasses and sunglasses the most wonderful thing happened. Dickson from Face a Face came in and showed me the most amazing pair of guess what, cat eye glasses. The Ivory is a new frame and it is beautiful. Available in classic finishes as well as burgundy and a bright aqua this cat eye gets mod by increasing the size and incorporating a rolled metal hinge. The rolled metal gives a nice contrasting pop to the various colors as well as an edgy twist to the frame.
With each new frame I think to myself I can love no other pair of glasses greater than this, and then I find myself counting the days. This time until my Ivory in color 513, burgundy with almost retro looking white rolled metal hinges, arrives. I guess it's true what the say, love is infinite………..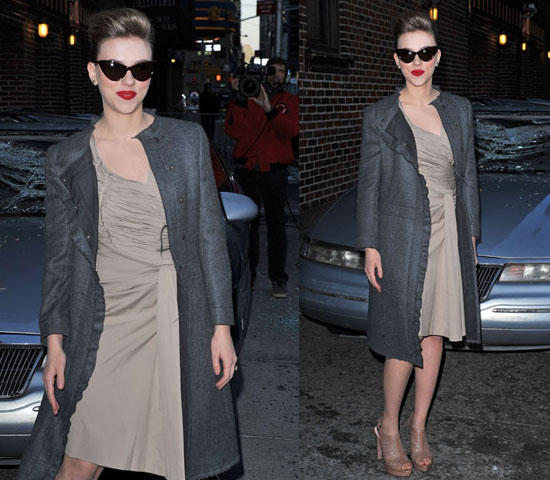 What you focus on expands…
All this talk of cat-eye sunglasses and I log in to online news and see a link to this pic of Scarlet Johansson rocking some awesome cat eye sunglasses. Her outfit appears to be vintage so the glasses may be as well. However there are a number of current eyewear designers revisiting the cat eye look if you want to recreate this.
For more on the circumstances of this photo visit my original source;
http://www.fabsugar.com/Scarlett-Johansson-Wearing-Cat-Eye-Sunglasses-Outside-David-Letterman-2010-7468442
If you like the Silver Lake you should check out some other cat eyes by LA Eyeworks.
There is the Blackbird, an acetate style measuring in at 50-17 and six colors:berry white, moon tortoise, fuschia slide, black static, bluzino and bronzino
The classic Echo Park, another acetate style a bit more angular than the Blackbird, sporting rivets and available in 4 colors: blue abbey, naughty pearl grape, red abbey, naughty gold pearl
The Silver Lake as featured previously. This chunky cat eye style is crafted of titanium so lighter weight than the others. Available in six colors as well all finished in a corky texture.
Finally for a radical cat eye look check out the M Cornu. Measuring in at 48022 the frame is slightly narrower than others but has a very deep lens. Available in five colors: blue abbey, red stir, creamore latte, plum camel and coffee tortoise.
With the above Cate eye selection from LA Eyeworks there really is something for everyone.
Today's frame pick is the Silverlake by LA Eyeworks. This gorgeous frame is big and bold and oh so yummy. Available in 6 colors all with a cork like pattern embellished on their surface, you can choose from brown, blue, red, green, violet or for those lovers of light colored eyewear- tan. measuring in at 51-20 it is a nice size for most ladies.
So why do we love it? First of, it's beautiful- this is always top criteria. But we love it even more because it appears to be a bold, chunky substantial frame, yet is crafted out of titanium. What does this mean to the wearer. Comfort! Pure, lightweight, unencumbered comfort which is not an easy characteristic to come by in the world of "statement glasses".
Read what La Eyeworks themselves have to say about this Vint-edge frame:
Today's frame pic comes from the ever informative lover of eyewear at Europtics Cherry Creek, Tina. She chose the Axess 4, color 263.
Things she loves about this eyeglass frame: It's beautiful. It has a subtle feminine arch at the brow. The bold red front with the funky red hatching along the temples presents just a little bit of fun. Like all Face a Face this frame allows you to Read the rest of this entry »